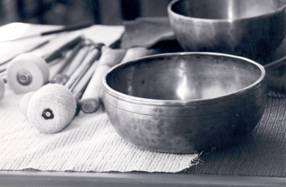 The early application of the Singing Bowls was connected with the magical rituals of the Bon Pot Shamans living in the Tibet. They were believed to be the sacred metallurgists, who based their spiritual belief on the recitation of mantric formulas. Unlike any other singing bowls in the world, Himalayan Singing Bowls are known for their unusual sounds, which seem to hover in the air long after they are played. The recipes and sacred formulas of the content of the metal alloy have been lost.
The Sacred Metals
According to metallurgical analysis most of the Singing Bowls are made between five and nine metals. The most commonly used alloy is based on a combination of seven different metals, each metal representing a different heavenly body.
| | |
| --- | --- |
| METAL | HEAVENLY BODY |
| GOLD | SUN |
| SILVER | MOON |
| MERCURY | MERCURY |
| COPPER | VENUS |
| IRON | MARS |
| TIN | JUPITER |
| LEAD | SATURN |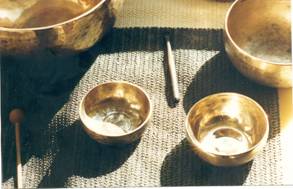 Some bowls may contain as many as nine metals, with the addition of zinc, nickel or meteorite. Meteorite is held in especially high esteem by the Tibetans, as it is found in the lofty Himalayas, the abode of the gods, having descended from the heavens and is called the "sky metal". It is considered to be the thunderbolts of goods, and is thus of sacred origin. The Tibetan Buddhist master, his holiness the 16th Gwalwa Karmapa said that the music produced by the Tibetan Bowls is the sound of the Void.
Singing Bowls in the West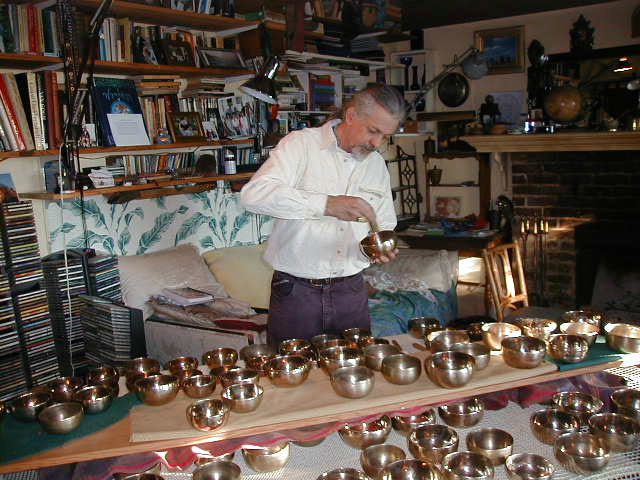 In the West, people use the Himalayan Singing Bowls for meditation, holistic healing, stress reduction, bio-feedback, chakra balancing, World, and New Age music and toning. Many people find the rich blend of harmonic overtones, which the bowls produce, have a direct effect upon their chakras. Playing the bowls can have an immediate centering affect on the body. The tones set up a response that creates a balance between the right and left sides of the brain. This balance is known as synchronization. Meditating on the subtle sounds of the bowls tunes one into the universal sound of OM.