Origin of the Gong
Experts state that the word Gong comes from Malaysia. However, all cultures capable of producing bronze had some type of Gons. Gongs have been created in Southeast Asia, India, Tibet, China, Korea, Japan. Indonesian gongs, in particular, produce a specific tone. The reverberation is moderate. Another type of Gong, the Chinese chan luoi is especially popular in orchestras and music therapy.
The Magic of Gong Nowadays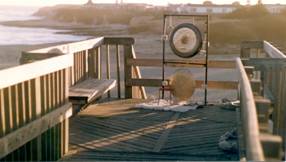 The Gong was introduced to West during the period of colonization and became a part of the traditional orchestra. Today, Gongs are used for a variety of purposes other than music. They are most often connected with spiritual purposes. Gongs are used in temples as an accompaniment to weddings and other religious rituals. With the advent of pop music and the growing demand for experimental unusual sounds, a new application for the Gong in contemporary music emerged.
Back to the Top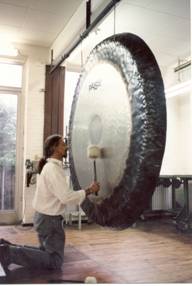 Creation of Gong
Gongs are made of bronze. The primary alloys in the creation of a Gong are made of copper and tin, but small amounts of lead, silver and gold are often added to alter the characteristics of the sound. The production of a Gong includes the process of forging, hammering, and tuning. Musicians use a variety of tools that generate different types of sounds. These include Gong Mallets of Lambskin, Solid Woolen Mallets, Soften Silicon Mallets.
Psychophysiological effects
Every sound has a complex effect on the nervous system. The vibrations stimulate the sensory neurons connected with the organs. What follows is an effect that occurs in an immaterial way. Sound is transformed directly from physical body energy to the dream body through the vibrating nodes or chakras, the force of life energy.