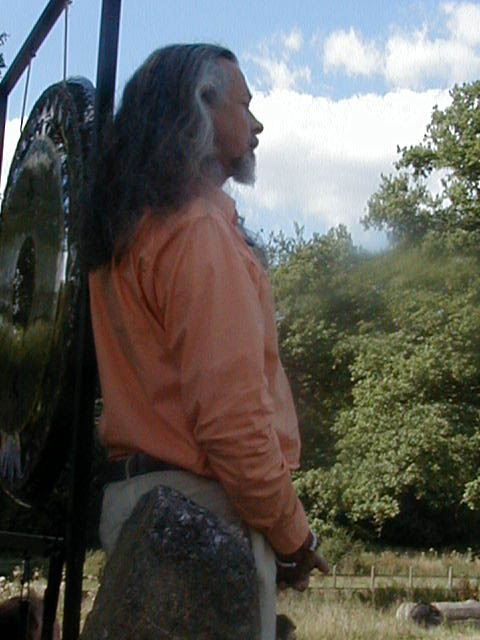 Gonging in England
Every year in May, Aidan McIntyre assists Don Conreaux and Randee Ragin in Gong presentations during the Mind Body Spirit Festival in London (Victoria), UK. They perform a series of Gong presentations, lectures, concerts and workshops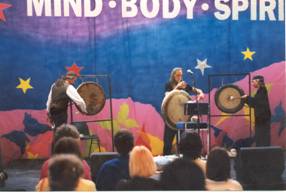 and are offering private Gongbath sessions. During this festival Aidan offers a range of Master quality Singing Bowls with competitive prices that are available for purchase as well as CD's, tapes and books.
If would you like to obtain further information about the next Gong concerts during the Mind Body Spirit Festival in UK please contact us via email.
Mysteriou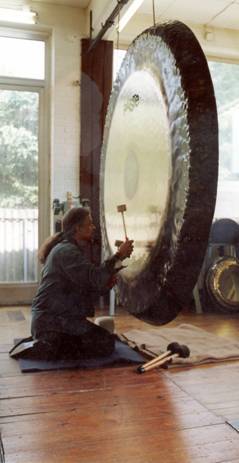 s Tremendum tour in Poland
In November 2002 Aidan McIntyre and Don Conreaux went a tour to Europe, to Poland. They performed 4 concerts in the major cities of Poland for thousands of people. They also presented a weekend long workshops dedicated to the Art of Playing the Gong. Detailed information about this year's tour in Poland was published in the September's edition of Polish magazine Nieznany Swiat. Should you require any further information about the events in Poland please contact us.
Gongtheraphy
Aidan collaborates with the "A Better Chance", an organization located in the Bay Area, California, which is devoted to helping autistic adults and children. People afflicted with this disease to express themselves by playing gongs and singing bowls. The sound therapy has been very effective in helping these special needs children and young adults.
For more information please email us to experience and play the music of the spheres for yourself.
Schedule your own gong bath!

Aidan has performed at many gong concerts and shows throughout the world. Most have taken place in California, where he lives. Gongs and singing bowls concerts are particulary effective at birthdays, weddings and other celebrations as well as memorials and funerals. The meditation session offered by these unique instruments can also aid sick people in their healing processes. It is also a perfect birthday gift- a "gongogram". Have you had your Gongbath today? Schedule your session NOW!